HB 720 K bead, pneumatic manual gun with console
€1.115,00 EUR
zzgl. MWSt
---
Einzelstück
HB 720K bead

This model features automatic temperature setback, which reduces overall energy consumption. The fill level indicator ensures that all the adhesive is used and that the cartridges are changed on time, but not too soon.

Suitable for all reactive hot melt adhesives in 310 ml cartridges.


Process reliability thanks to the microprocessor-controlled, stable temperature
Integrated level control and thus increase in efficiency
One-hand bayonet lock for optimum ease of use
Minimal maintenance due to the PTFE-coated tank (reduces buildup)
Automatic temperature reduction for economical energy consumption and protection of the hot-melt adhesive
Temperature control with digital display integrated in the handle
Incl. cone nozzle standard Ø 3.0 mm
Incl. nozzle kit Ø 3.0 mm with standard cone nozzle Ø 3.0 mm
Condition: used


including workstation

For stationary work with the HB 720 series. The handheld devices are installed in a safe device tripod. The mains plug of the HB 720 is connected directly to the workstation.

The workstation includes a pressure regulator, trigger and foot valve. A spacer plate on the tripod is adjustable to optimize the working area.

Working with the foot switch allows you to work hands-free with the workpiece to be bonded.

The display of the pressure regulator is clearly visible on the station. The air pressure can be precisely adjusted with the regulator for a constant application pattern.

Optionally, the group can be expanded to include a timer. This enables a reproducible application quantity per release.
Errors and subject to prior sale.
View full details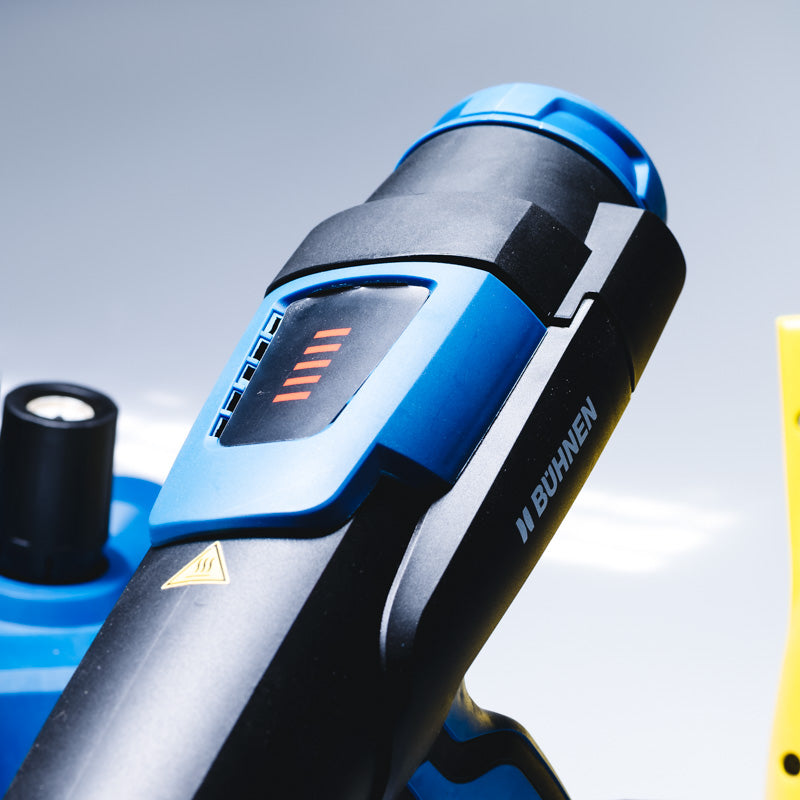 Certified Refurbished

All devices from the BÜHNEN Refurbished Shop have been put through their paces by our service team. Your personal contact will be happy to advise you on questions of technical feasibility in your company

Resource-saving

Our refurbished products are attractively priced . Small scratches and discolorations are not uncommon on used items. These are items that have found their way back to us for various reasons: e.g. B. Returns , demonstration models or rental devices .